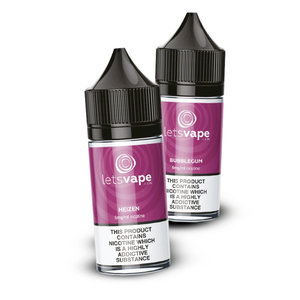 MINTY/ICED


MINT BLAST
Sweeter than menthol, this fresh flavour really does stand out
BLUEBERRY SPEARMINT
A fresh fruity mix of fruity blueberry with a shot of spearmint freshness
STRAWBERRY MENTHOL
A well balanced fresh twist on this classic sweet strawberry flavour
CHERRY MENTHOL
Two of our most popular flavours rolled into one. Sweet cherry hit followed by a cool minty aftertaste
HEIZEN
A mix fruit, cool mint & absinthe makes for one of the best vapes around
CITRUS ICE
Our citrus ice flavour is a delicious mix of sweet lemon & grapefruit with a cool menthol hit
BLACK ICE
The smooth, cool flavour of menthol mixed with the sweet tartness of blackcurrants
BLUEBERRY ICE
The ripe fruity flavour of blueberry with a kick of menthol, giving it a minty cool aftertaste
MENTHOL
This great all-rounder is a perfect escape
from tobacco & more delicate than our double strength liquid
DOUBLE MENTHOL
Twice the kick of our standard flavour that hits the spot perfectly & leaves a lasting minty taste
MANGO ICE
Deliciously fruity mango mixed with the cooling taste of menthol
SOUR LIME SLUSH
Sweet & tangy lime with just a hint of lemonade with a fresh icy burst
SOUR BLUE SLUSH
Zingy sour blue raspberry with a burst of icy freshness
FRUITY
BLACKCURRANT
A deep rich blackcurrant flavour that's not overly sweet
BLUEBERRY
A fruity liquid with a sweet smell that lingers. Just add
pancakes for a perfect morning vape
CHERRY
A vapers staple juice – a well balanced sweet flavour. Go on – take our cherry!
APPLE
Crisp & sweet, it might not keep the doctor away but you'll keep coming back for more
PINEAPPLE
An exceptional juiciness & a vibrant tropical flavour that
balances the tastes of sweet & tart.
BLUE RASPBERRY & GRAPE
A delicious & sweet vape packed with flavour.
PEACH
An absolute peach of a liquid with a slight tang at the end for a lovely fresh vape
GRAPE
We think this is the second best thing you can do with
grapes! A sweet & fruity liquid
GRAPE & APPLE
A mix of sweet American-style grape combined with rich red apple
FOREST FRUITS
A mixture of sweet & tart forest berries gives a smooth vape that's perfect for a walk in the woods
RASPBERRY
A slightly sweeter than standard raspberry – crisp & tangy
STRAWBERRY LIME
Sweet strawberry & sharp lime go together perfectly in this summer liquid
STRAWBERRY & WATERMELON
Bold watermelon flavours are mixed with sweet of
strawberry.
STRAWBERRY & RHUBARB
A delicious mix of fresh strawberry & tangy rhubarb
BANANA
We haven't been monkeying around with this flavour – we've spent months perfecting the perfect 'nana
STRAWBERRY
A light, sweet & juicy strawberry flavour – the taste of summer
SWEET
BLACKCURRANT & LIQUORICE
All the rich blackcurrant flavour combined with the unique taste of sweet sticky liquorice
STRAWBERRY MILK
One for the milkshake fans – creamy strawberry mixed with vanilla makes this a
fantastic liquid
STRAWBERRY LIME LOLLY
A fantastic twist on a childhood classic balancing sweet strawberry & zingy lime with ice cream & a touch of cooling
CHERRY COLA
A classic twist on the popular thrust quencher, with the added taste of cherries

TOBACCO
AMERICAN LITES

A mellowed roast flavour
BRITISH TOBACCO
A pleasant, everyday tobacco
RY4
A sweet tobacco infused with caramel
VIRGINIA TOBACCO
The iconic flavour of rolling tobacco
All Let's Vape e-liquids are made in a 60,000 sqft manufacturing facility complete with a specialised ISO 7 cleanroom – the largest in the UK

ISO 9001: 2015 certified with fully implemented quality management systems & HACCP processes
Pharmaceutical grade nicotine, PG & VG
All products are batch tested with full traceability on all raw materials
In-house analytical testing laboratory
Recently audited to GMP standards and passed

Contains either: 3mg (0.3%), 6mg (0.6%), 12mg (1.2%) or 

18mg (1.8%) of nicotine.
Can't find what you're looking for?
Fill out the form below and we'll see if we can help.
Choosing a selection results in a full page refresh.
Press the space key then arrow keys to make a selection.